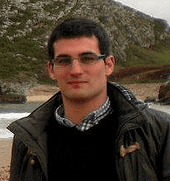 E-mail:
mail@empaneda.com

My research work is oriented towards the understanding, modeling and optimization of the mechanical response of engineering materials. Particular topics of special interest are (a) the development of new formulations to extend plasticity theory to small scales, (b) predictive modeling of hydrogen assisted cracking, (c) mechanics of functionally graded materials and (d) the role of plastic strain gradients on crack tip mechanics.
My research stays in several universities and research institutions worldwide have given me the opportunity to establish numerous international collaborations and to learn from very bright scientists. Their valuable advice cannot be acknowledged enough (some of them are listed on the right).
Please do not hesitate to get in contact if you think we could collaborate; I am very much open to new ideas and suggestions and I am keen to cooperate with other researchers in academia or industry.
MSc Thesis projects are usually available for students (please send an e-mail to arrange a meeting).
NEXT CONFERENCE
BP-ICAM Conference
November 6 – 8, 2018
Manchester (UK)